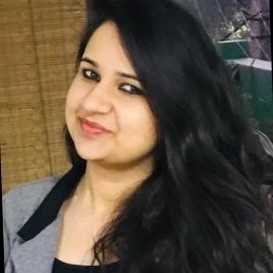 While the usage of social media in the workplace is already commonplace, it has developed in recent years. Although losing productivity was the primary issue at first, figuring out how to leverage the power of social media has risen to the top of the priority list.
Furthermore, one of the social media sites that are going great in the race is LinkedIn as a recruitment tool. It is a massive, ever-expanding platform for recruiters with vacancies to fill. However, it has both advantages and disadvantages.
In addition to advertising positions on LinkedIn, an increasing number of HR professionals are utilizing it to discover prospective hiring.
Moreover, approximately 25 million LinkedIn profiles are seen every day by various firms and enterprises looking for employees who could be suitable candidates in the future for job opportunities at their company. Hence, this social network is an operational platform for business networking, primarily in the case of recruiters looking to find the best applicant for certain employment opportunities.
Well, nowadays, one out of every three professionals has a LinkedIn profile, and two new users join up every second. What's the big deal about it? Let's have a look at its main benefits of it.
Advantages of LinkedIn as a recruitment tool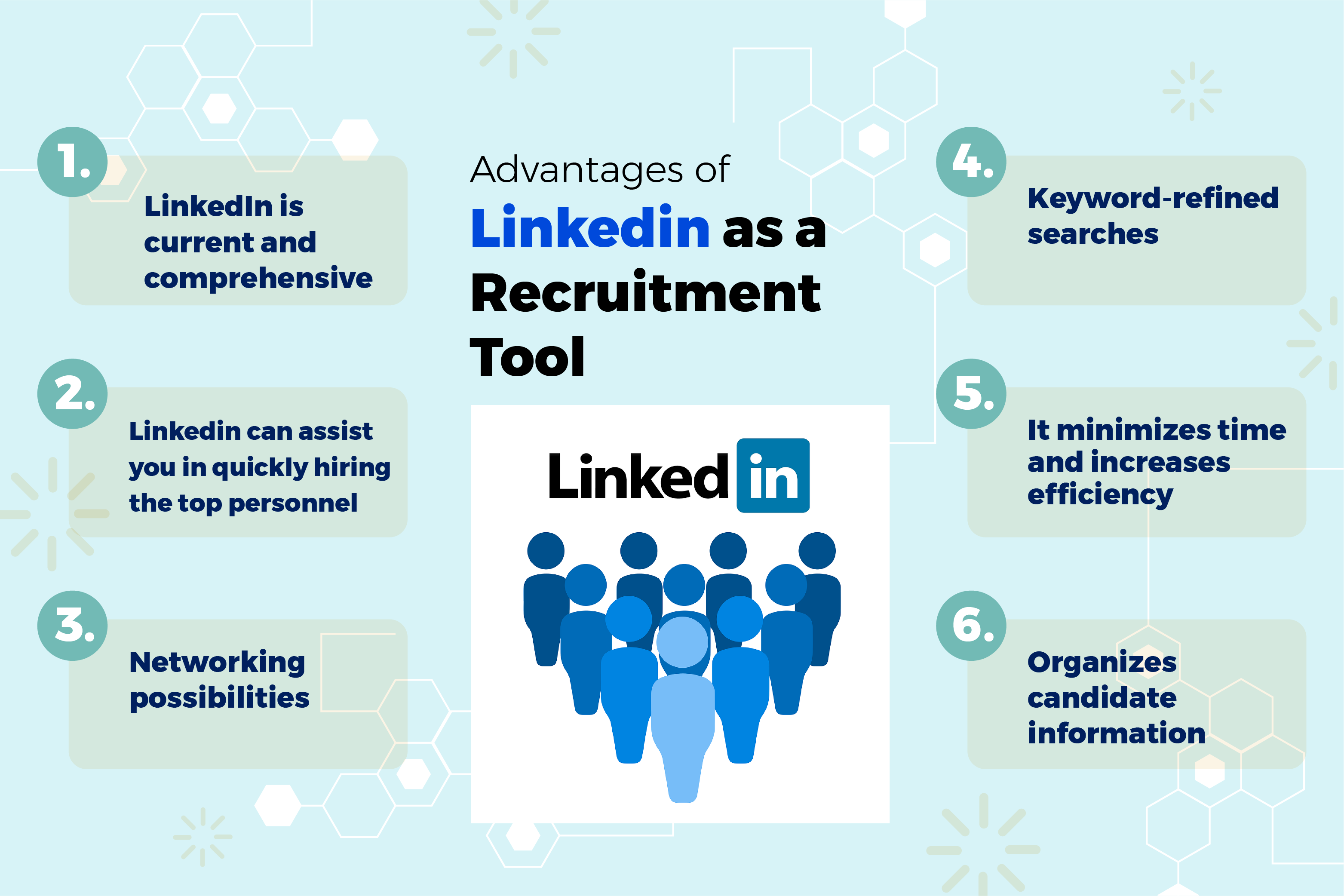 01. LinkedIn is current and comprehensive.
Everyone uses LinkedIn as a recruitment tool nowadays, so why not utilize it to locate great talent? Candidates keep updating their profiles with the most current experiences as long as they are actively looking for the greatest opportunity.
02. Linkedin can assist you in quickly hiring the top personnel.
Candidates with executive-level experience would often have thorough LinkedIn profiles and a well-established network of connections. This is important for recruiters who are looking to fill high-level positions.
03. Networking possibilities
LinkedIn is a fantastic platform that allows business owners to explore possible prospects for their firm. LinkedIn creates great networking opportunities for certain sectors by making industry postings available for study, building trust with prospects, and providing solid search technology for firms or people to narrow down alternatives.
04. Keyword-refined searches
Another interesting advantage of LinkedIn as a recruitment tool is Keywords Refined Searches. They are a crucial consideration when sourcing prospects on LinkedIn. It is also one of the most popular sourcing methods among recruiters. When seeking a candidate with a certain talent or classification, this saves recruiters time. When you input a term, LinkedIn will provide a list of profiles that closely match the search.
05. It minimizes time and increases efficiency.
Recruiters may save a lot of time by using resume processing and filtering technologies. Because recruiters just have to go through the top few applications rather than analyzing every unqualified applicant's résumé, the time to hire may be significantly shortened. Candidates will progress through the recruiting process more quickly, and hiring managers will be able to make better use of their time.
06. Organizes candidate information
As candidates progress through the hiring process, recruiting software automatically monitors and maintains applications, resumes, and employment-related data. Candidate databases allow recruiters and hiring managers to quickly know where each candidate is in the recruiting process. This essentially minimizes the possibility of candidate data being lost in the shuffle and allows candidate files to be retrieved in seconds with only a few clicks.
07. Search Engine Optimized
Today's web search engines look for respect. This is occasionally encountered in the material. It is discovered on various occasions how often content is provided to others. LinkedIn as a recruitment tool provides specialists with the option to address both of these crucial areas. They can create material that is simply posted on the social stage, which can then be shared as an article interface on other social sites such as Facebook or Twitter. In the end, this indicates that the most critical bits of data have a larger online presence, which can lead to improved and large transformation rates.
Disadvantages of LinkedIn as a Recruitment Tool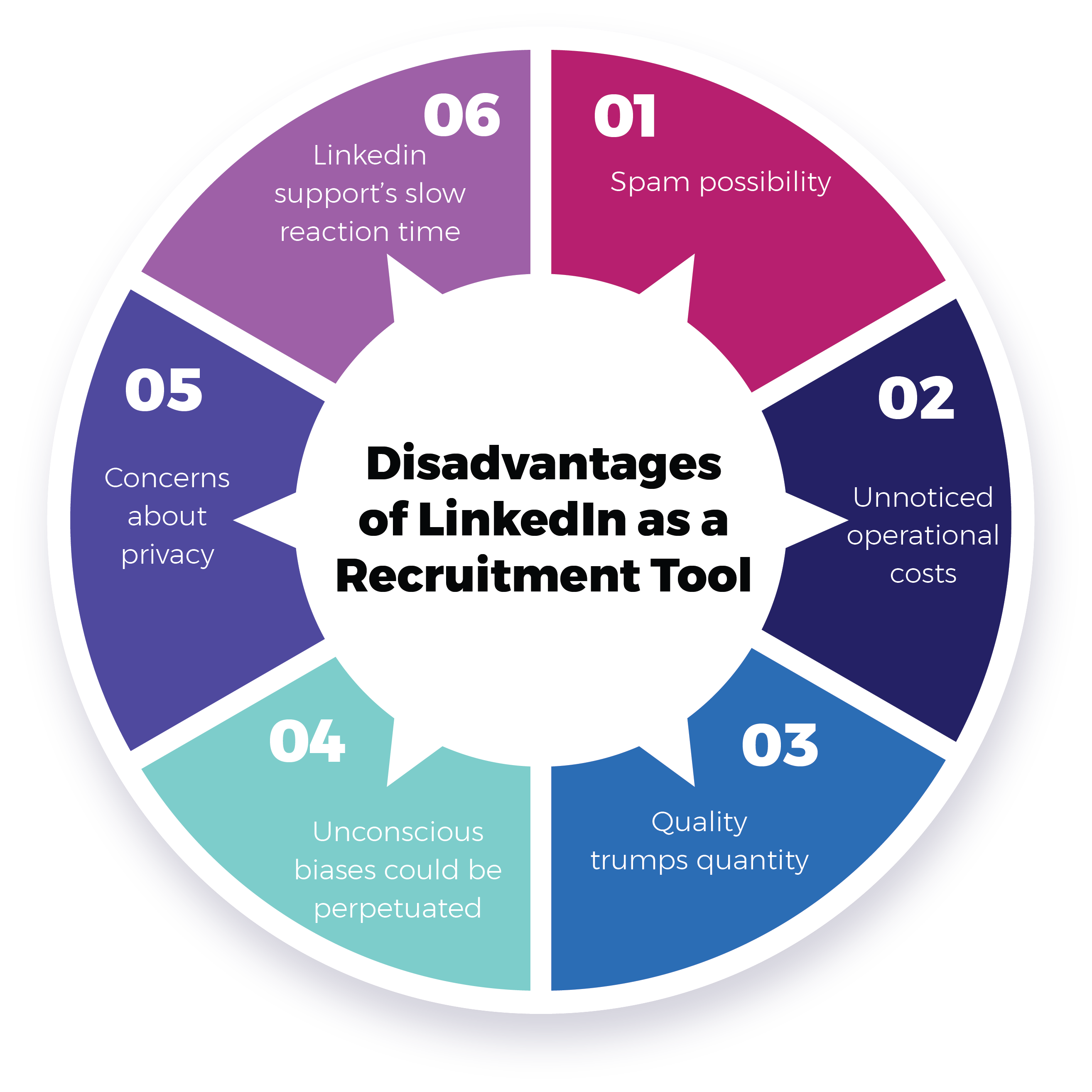 01. Spam possibility
The majority of LinkedIn contacts and communications are not necessarily relevant to one's job or business. Updating one's profile on LinkedIn allows fraudsters to send incoming connections and messages selling anything unrelated to one's profile.
02. Unnoticed operational costs
Signing up and studying pertinent information or LinkedIn profiles may be free, however, LinkedIn as a recruitment tool charges for any improved or extra services. To reduce the time necessary for developing desired contacts and discovering relevant possibilities, one must subscribe to the premium membership.
03. Quality trumps quantity
Online recruiting instantly expands the talent pool, but this does not necessarily result in an influx of qualified candidates. Automated procedures can be beneficial, but only if you know exactly what you want. Be completely explicit about the credentials and experience required in the job description, and do not leave things up to an unduly broad interpretation in order to save time sifting through a mountain of individuals that do not fulfill the requirements.
04. Unconscious biases could be perpetuated
Some businesses, such as Amazon, have documented problems with recruitment software that perpetuates prejudices. The screening engine was revealed to be favoring terms often used by male candidates, resulting in accidental prejudice that made it more difficult for female applicants to make the cut. Because recruitment software tools must be configured by a person, prejudices may be increased by the technology.
05. Concerns about privacy
Many data-heavy businesses are hacked for user data. This is one of the major risks that consumers face when they sign up for social networking sites like Linkedin. To fully embrace Linkedin, the user must provide a significant amount of sensitive personal and professional information, such as date of birth, job history, contact information, email address, and so on.
06. Validation vs. endorsement
The skill endorsements posted on LinkedIn are not legitimate. Anyone with a skill can claim it and request endorsements. For example, I may recommend a buddy on LinkedIn for talent and ask for a recommendation in return. That's how easy it is to recommend a talent on LinkedIn. As a result, recruiters must spend more time validating the abilities of a candidate identified on LinkedIn as a recruitment tool.
07. Profile creation cor the cirst time
It takes time for every social networking site to flourish, but LinkedIn, in particular, may become daunting due to the number of components involved. It may appear simple at first, but there are several criteria before creating a company page. To set up the page, you must have a personal LinkedIn profile with a profile strength of Intermediate. You will need to devote some time to developing your profile by becoming acquainted with the site's features and creating contacts. It takes a lot of work at first, but you'll realize that each connection brings you one step closer to building your LinkedIn page.
08. Linkedin support's slow reaction time
People who have sought out Linkedin for assistance and support have also complained that the company is slow to respond. This is a difficult one. Even though I agree that delayed customer support might lead to dissatisfied users (or consumers), we must remember that Linkedin provides free access to their platform to everyone. Furthermore, having free access to hundreds of millions of individuals might create an imbalance.
Conclusion
To summarize, A recruiter in the business sector is someone who posts openings, searches for fresh talent, and hires new personnel for new company duties. As a recruiter, you clearly seek a highly competent individual with extensive experience in the relevant skills and competencies. This necessitates the use of a particular platform for recruiting new applicants. Because the majority of students, employees, and professionals utilize social media for job search, it proves to be a valuable resource.
Also, LinkedIn is a free social networking tool that allows users to build profiles and search for relevant information. Individuals may use this platform to look for jobs that match their interests and qualifications. At the same time, firms are in a good position to find the ideal applicant for their employment opportunities.
Nonetheless, because it is such a large platform, it has several limitations. Users' information can be exposed through sites like LinkedIn, resulting in a violation of their privacy. Several people have also been duped using LinkedIn. Regardless, this platform does provide better privacy and security, as well as other benefits with a paid subscription, and I believe it is worth the money and time.
With this data in hand, LinkedIn as a recruitment tool is the most trustworthy network for hiring new applicants. You can collect candidate information from LinkedIn, but if you require a large number of profiles, you won't be able to do it one by one. LinkedIn lead extractor solutions are required to automatically extract candidate information from LinkedIn. To extract candidate information from LinkedIn, using the LinkedIn Recruiter Extractor Tool is recommended.
By using the LinkedIn Recruiter Extractor tool, you may obtain the finest contact information from LinkedIn and Recruiter based on your business requirements. Companies and recruitment professionals may use this tool to extract applicants' contact information such as name, email address, contact phone number, Twitter id, messenger ids, previous job title with experience, business details, website, skills, industry, country, and profile link.
So, the next time you log on to LinkedIn for a job search or to start a recruiting process, we believe you now have the greatest LinkedIn guidance.
Best wishes for your future endeavors with Linkedin as a recruitment tool!!
For more Updates
Website – www.shrofile.com
Facebook page – https://www.facebook.com/shrofile/
Twitter page – https://twitter.com/shrofile
Linkedin Page – https://www.linkedin.com/company/shrofile/
YouTube Page – https://www.youtube.com/channel/UChVfJqpTjx1dHJ2xq_dMtAw
Instagram Page – https://www.instagram.com/Shrofile/