There are cases wherein a team will spend a reasonable bit of time and money conducting a simple IT hiring process, while still forgetting the basics. If you believe that the IT hiring process currently operational at your organization should be more efficient, then this article has some useful insights to share.
Introduction
The essence of an IT recruitment process lies in hiring the best-suited professionals for the job, who hold the right skill sets and experience required by the hiring organization. Just an instance, hiring web developers is not difficult for an app development company. But when they are looking to find programmers who bring with them experience working with the different scripting languages, then, figuring out the right talent becomes difficult.
For numerous IT functions, recruitment is characteristically more time-consuming as compared to other fields. Several assessment rounds are involved, which help identify soft skills, critical reasoning, and technical skills. Similarly, a few of the recruitment processes may involve sample or mock project work.
But, even 5+ screening rounds for over 50 candidates is not going to help, unless the right candidates are found. Henceforth, numerous corporate choose to take the services of an IT recruitment agency.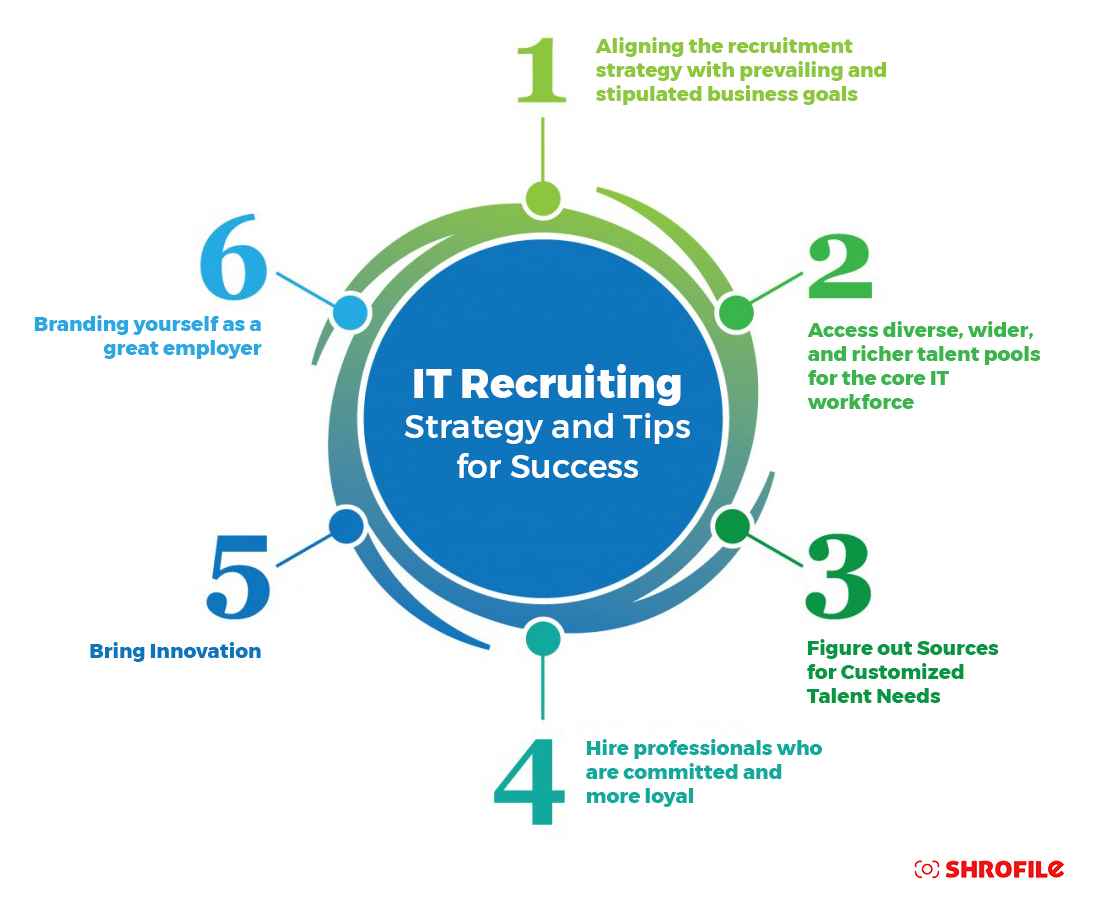 Let us take a look at a few of the top tips for a more streamlined, efficient, and result-oriented IT recruitment process.
1. Aligning the recruitment strategy with prevailing and stipulated business goals
Targets and goals that need to be met are a common feature of all IT companies. So, a corporate should figure out a hiring strategy that is aligned with these goals and adopt it. For successful IT recruitment, this is the first step.
A few of the top approaches that work in this regard include creating training pools and talent pipelines. When you conduct sessions for learning and development, you will see that filling up these vacancies is easy.
This way, the effort, money, and time that is put into the processes for IT recruitment are aligned in the direction in which a business owner wants his IT Company to grow. Consultation with an IT recruitment consultant is helpful in such cases, to frame an effective action plan.
2. Access diverse, wider, and richer talent pools for the core IT workforce
In most cases, IT Companies are looking to come up with solutions that are based on the project that client companies award them. Herein, across all divisions and functions, only a specific number of permanent employees are maintained. Whenever scalability demands show up based on the projects or peak seasons, these companies resort to temporary staffing derived from specific talent pools.
As time passes, technology also upgrades. Companies call for employees who are trained in different data architectures and scripting languages. In such circumstances, it may so happen that the talent pools that the IT Companies have previously been accessing may cease to be sufficient for meeting the requirements of the workforce.
When a company is encountered with such a scenario, then, they should partner with an IT recruitment agency. The IT Company will then discover that it finds access to a pool of IT talent that is wider, richer, and more diverse. While junior programmers will be available, so will the solution architects.
Taking the aid of an IT recruitment agency yields the best outcomes when it is done based on the scale and scope of temporary staffing need projections.
3. Figure out Sources for Customized Talent Needs
Let us consider the case of an IT Company that manages operations across different parts of the world. Such a company would need to have a diverse workforce. They may also require training their workforce, such that they can use software project management styles, and cloud systems, alongside the existing information, and data architecture.
Having these practices in place goes to show that the hiring needs are highly customized.
Through the current times, a range of successful IT Companies has encountered such scenarios. In most cases, such companies have additional remote talent teams at outsourced service-providing companies or selected vendors. This way, these organizations are always in a position to fulfill the manpower requirements for their customized talent requirements.
By consulting with an IT recruitment consultant, such organizations access the best-fit outsourced service providers.
4. Hire professionals who are committed and more loyal
For any organization, professionals who are loyal and more committed are a boon. Across the IT industry, the attrition rates are high. So, such professionals are difficult to find, as compared to other industries. In numerous IT companies, only 10-15% of employees have a tenure of over 5 years.
In such a scenario, IT companies should focus on their HR practices and policies, such that engagement and retention levels are boosted for the employees. This will motivate your employees to keep working for you. As these transformations catch the niche public's eye upon being highlighted in media and marketing materials, it will induce more goodwill in the employment market.
Another premium option available at IT Companies' disposal is to go for a few among the people analytics and recruitment solutions that are nowadays made available. This will help the IT Companies figure out how they should be identifying and hiring professionals who will be potentially working for a long-term tenure.
When you work with an expert IT staffing service provider, aligning the candidate search processes with the people analytics findings simplifies.
5. Bring Innovation
One of the ways of defining innovation is to have proactivity and creativity when thinking about any situation. So, when the thought process is innovative, then, solving problems or managing processes become more efficient and effective.
Innovation inspires a range of IT professionals. They prefer to stay in an environment where their abilities to innovate are recognized and rewarded.
But, when we consider the case of project management practices that have traditionally been in place, the room for innovation is limited. IT Companies that encourage innovation set up a range of employee encouragement programs to bring out the best among their employees.
When the work environment induces innovation and creativity, the best-fit talent becomes easier to hire by the voice of the employees.
So, towards a project, an IT firm should inculcate an approach that is out-of-the-box or innovative. Employees will, hence, be encouraged to update and develop their skill sets. This makes learning more affordable and accessible and hiring the best-fit talent further simplifies.
6. Branding yourself as a great employer
Employment is best defined as tricky work. A few employers never fail to recruit the best talent available in the market. But for other employers, even hiring mediocre talent sometimes becomes difficult.
When we consider all IT Companies that operate at a large scale through the current times, we see that they have established themselves as a brand. They highlight their work environment as fun and flexible. Moreover, these companies also work towards getting additional online publicity. They promote themselves as a great place to work at.
A few implements that such IT Companies invest in include maintaining employee pages on their websites and organizing events and programs. They present an image of themselves being a diverse and non-discriminatory workplace.
When you consult with an expert IT recruitment consultant, you can figure out ways to boost your brand as an employer. This, in the same coin, will have a remarkably positive impact on recruitment.
For more Updates
Website – www.shrofile.com
Facebook page – https://www.facebook.com/shrofile/
Twitter page – https://twitter.com/shrofile
Linkedin Page – https://www.linkedin.com/company/shrofile/
YouTube Page – https://www.youtube.com/channel/UChVfJqpTjx1dHJ2xq_dMtAw
Instagram Page – https://www.instagram.com/Shrofile/