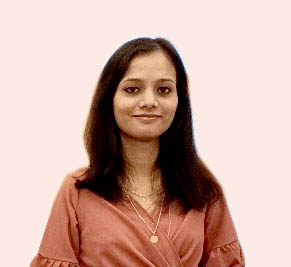 Getting hired is a tough task. But it's not easy to be at the seat of the employer. As an employer, you need to ensure that you
recruit the best talent
. To grow your company you need to
hire top talent
.
Today there are many resources and alternatives where you can search the candidates. So finding people to fill up the position is not that difficult. But your quest is to find and hire top talent for your company who can be an asset to your company.
Are you someone who has just boarded the seat of an employer? Or are you looking for tips to hire the best talent to meet present-day needs? If yes then this blog can help you in hiring the best talent. Read along to find the best tips to hire top talent.
Why hire top talent?
There is a lot of talent available for you to hire. But you need to choose the best for your company. In current times work from home culture is prevalent. There are many benefits of hiring the best talent. Some points below will help you understand why to hire top talent.

To ensure success: Employees are primarily responsible for the growth of a company. Hiring the top talent that invests their leanings for your company's goodwill helps your firm to succeed.
To get effectiveness and efficiency: Skilled employees carry out their work its effectiveness. The efficiency they keep in their work help the company to achieve max productivity with a lesser amount and time.
These are the major reasons why you should hire top talent. The above reasons will help you understand why you need to hire top talent for your company.
How to hire top talent?
In the previous section of the article, you have understood the reasons why you need to hire top talent. So now the next you need to know is the hiring tips. The major question in this scenario is how to hire top talent. There are many experienced and talented people to choose from. But you need to be sure that the one you hire is the best fit for your role. Also in current times work from home culture is prevalent. You need to find a talent who works consistently in this culture as well.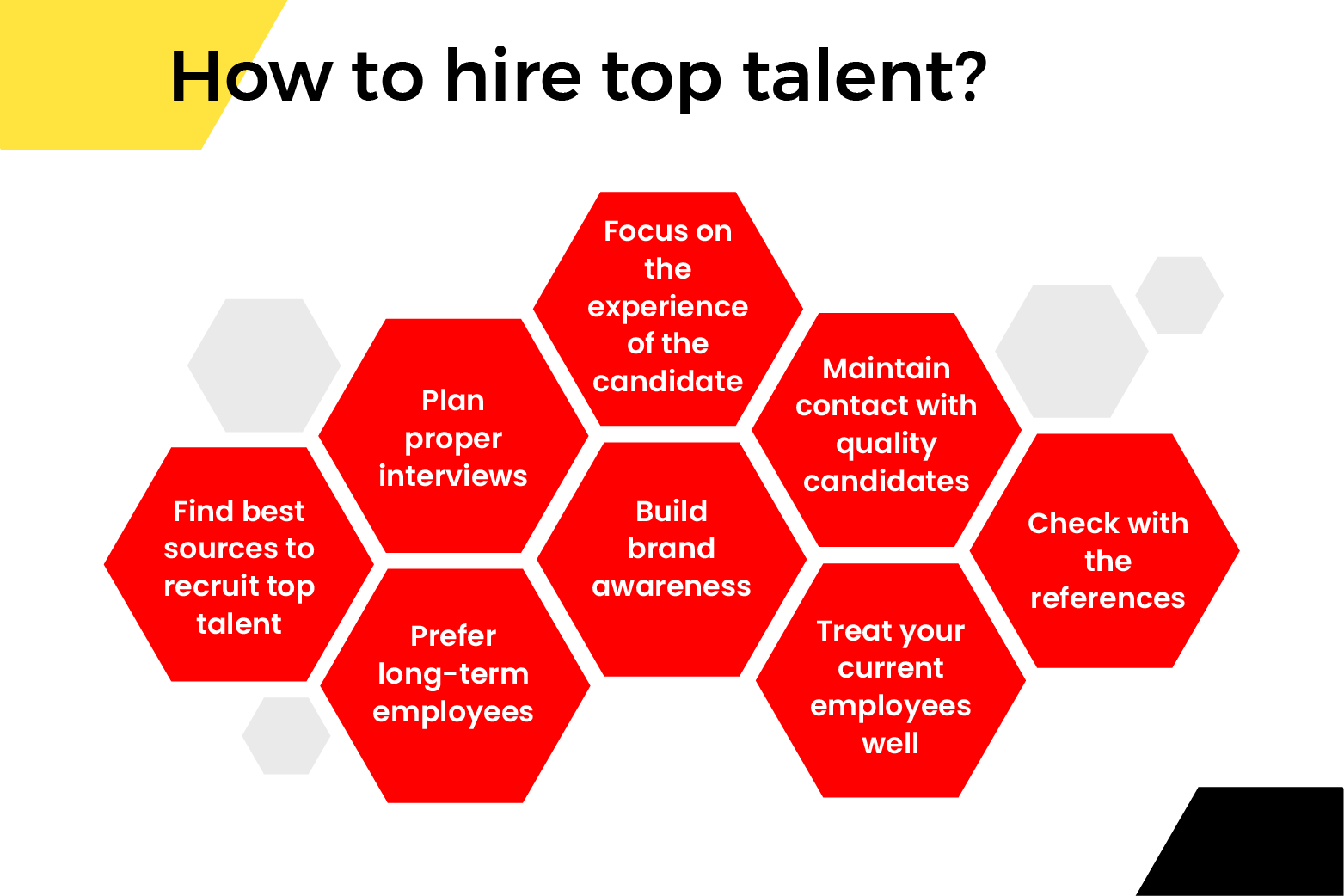 Find best sources to recruit top talent: To recruit top talent you need to prefer the best sources to recruit people. You can refer to your company's career section or job site. You can also make use of online platforms or take help from some recruiting agencies. For best results, you should prefer a mix of all these resources.
Plan proper interviews: Interviewing the candidates is essential. You need to form a team of members who will interview the candidates. The team can comprise a member from the HR team and hiring team members. Prepare a set of questions that you will ask the candidates.
Focus on the experience of the candidate: Check the portfolio of the candidate thoroughly. Ask them to give a brief description of their experience in the field. Also if it is a practical job like graphic designing or animation ask them to show their samples. This will help you judge and analyze their skills.
Maintain contact with quality candidates: After the interview shortlist the candidates that meet your expectations. Stay in touch with them. Ask your other team members to interact with them. You can also call them for the second round of interviews.

Check with the references: The candidates who have prior experience do provide references. Make sure you check them properly. Contact their previous employers via mail and gather some information about them. This will help you acknowledge their skills more accurately.
Treat your current employees well: Although your current employees do not have a direct role in hiring top talent. But they do have a role in creating an impact on the culture and aura of the workplace. If you do not maintain this then they won't refer your company to any of their knowns. So if they have someone in their network who is talented and can be a good asset to your company then they might not be willing to work with you because of the workplace culture. Every employee wants a friendly workplace that gives him/her a chance to showcase her abilities and face healthy competition. Make sure you provide this to your employees.
Build brand awareness: To hire top talent you must create awareness about your brand or company among people. Just for example if you look at any multinational company people are motivated to work there because they know about the company and are fascinated by the popularity the company holds. So the same you need to do for your company as well. This will attract the best talent to your company.
Prefer long-term employees: Employees who work for a longer-term for your company are a good asset. The reason is your older employee has complete details about your company. He is well informed about the losses and gains of the company and also knows where the company needs to improve for better growth. For this, it is beneficial if you consider hiring employees who work on a long-term basis. This will help your company to grow and also will be beneficial for the employees as well.
Do not directly offer too much pay: Good pay does attract talent to your firm. But then it does not give them the motivation to grow and work hard for appraisals. Make sure you always offer the right salary to the candidate which meets his talent and gives him/her the motivation to work.

Recruiting professionals studying candidate profiles. Man and woman, teamwork, CV. Human resource concept. Vector illustration can be used for topics like recruitment, hiring, selection

Make use of your marketing assets: Today social media and other marketing platforms are a great resource for your company. So you can make the best use of these social media channels to promote your new job openings. This will help your requirement to more people. It will make more people aware of the positions. This will help you get more candidates and you will get more choices to choose and hire the top talent for your company.
Provide information about your company: Whenever someone applies for a job in any company he/ she wishes to know with whom they will be working. So whenever you provide information about new job openings make sure you add a quick description of the company. You need to state what your company is and what does it works in. Also if you have a company's website then you must add it there. This will help the employees to directly visit there and have a look at the company.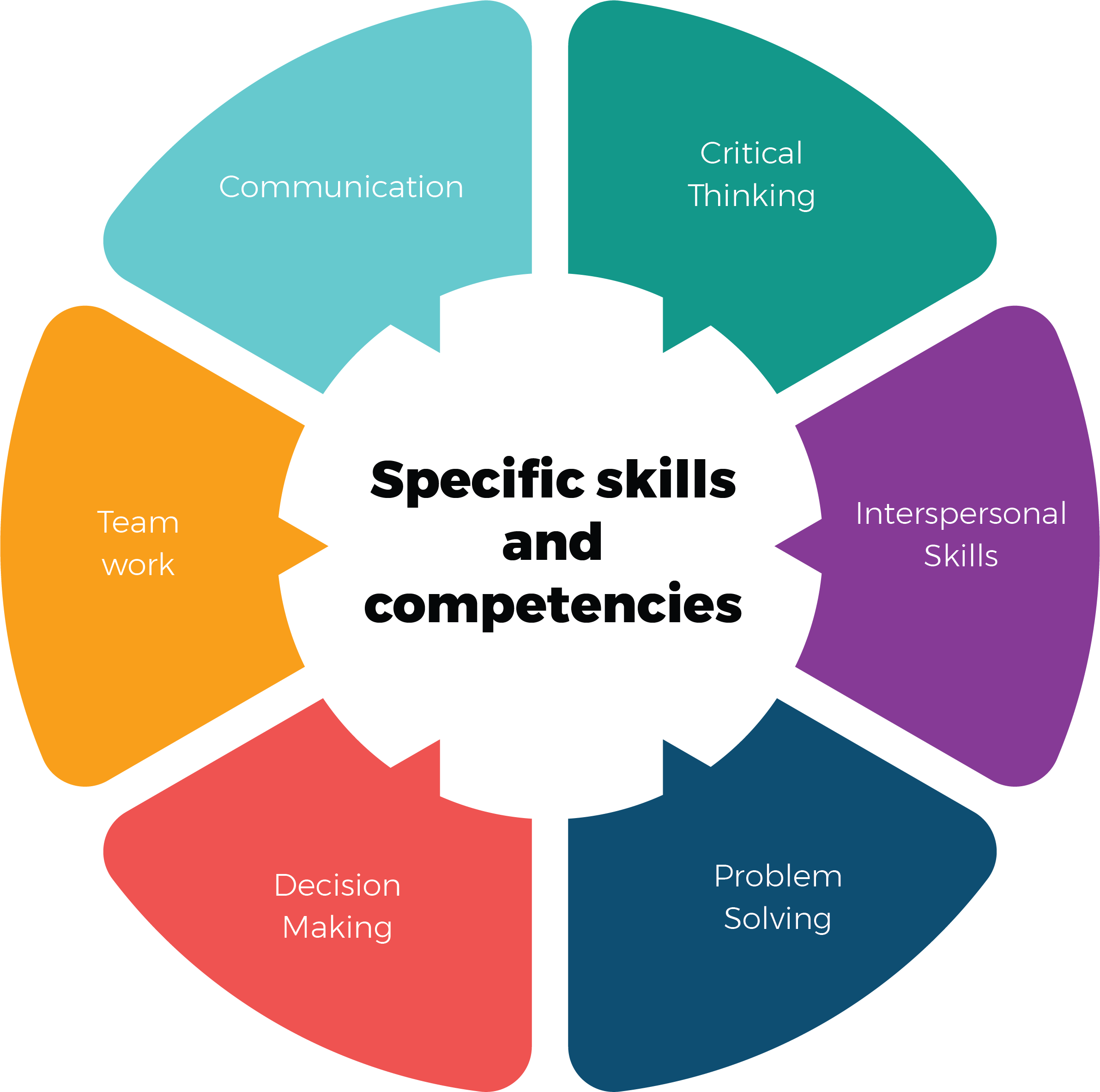 These are some of the tips that you can consider to hire top talent for your firm. But all these tips can give you positive outcomes only when you use them smartly and appropriately. Making the best use of these tips will ultimately help you to hire the best talent for your company.
This will help your company to grow and achieve new heights. Recruiting the staff is a crucial part of any company. Employing the right candidate will only help the company to grow. As an employer, you need to focus on this step the most.
Lastly, consider all the possible ways to hire top talent. Make sure to use all your resources to get the best outcome.
Faq's
How a top talent can be an asset to your company?
A top talent makes the best use of his knowledge and skills to deliver the best work. The quality work will in turn help your firm to grow.
Is it possible to hire top talent via social media?
Yes, it is possible to do so. In current times social media is a great way to aware more people about vacant job positions. This will help you reach out to top talents worldwide.
Can current employees be a good source to find and hire top talent?
Yes, current employees are a good source when it comes to hiring talent. Your current employees have their network. So they can help you recruit the best talent for your need.
Is it necessary to allow candidates to ask their questions or doubts during the interview?
Yes, this is very important. Every employee wants that he should be allowed to have healthy communication with his employees when he/ she works there. So allowing the applicants to ask something during the interview is a must. This will show that you are always open to communication with your employees.
Can an introverted candidate be also an asset to the company?
Yes and no. The apt answer to this question depends on the type of job you offer. If you have an opening for a developer who might not have great communications skills but is the best in his job then you may go with the candidate. But if you have a job opening for a public relations manager then you cannot hire an introverted person.
For more Updates
Website – www.shrofile.com
Facebook page – https://www.facebook.com/shrofile/
Twitter page – https://twitter.com/shrofile
Linkedin Page – https://www.linkedin.com/company/shrofile/
YouTube Page – https://www.youtube.com/channel/UChVfJqpTjx1dHJ2xq_dMtAw
Instagram Page – https://www.instagram.com/Shrofile/