We believe in building stronger teams by offering quality candidates through a pre-defined screening process. Every candidate has to go through a stringent filtering process and is validated by our experienced recruitment team.
Thorough evaluation & recommendations on client requirements - At Shrofile, We've a strong evaluation process. A series of interviews will continue throughout the candidate identification process and the number of potential candidates will be reduced to 5 at most.
Extensive market mapping of passive yet relevant candidates - We aim at Market analysis and attracting the top talent. Mapping talent involves producing a pool of talent - the top players in chosen industry or geography. A key part of market mapping is identifying these individuals, to ultimately make it easier to identify employees. This research into talent attraction is invaluable. It gives you a head start into converting talent into employees
Access to candidates from Shrofile's in-house database - With years of experience in Executive Search, we have a strong database of senior ranking executives and the best leadership talent across domains.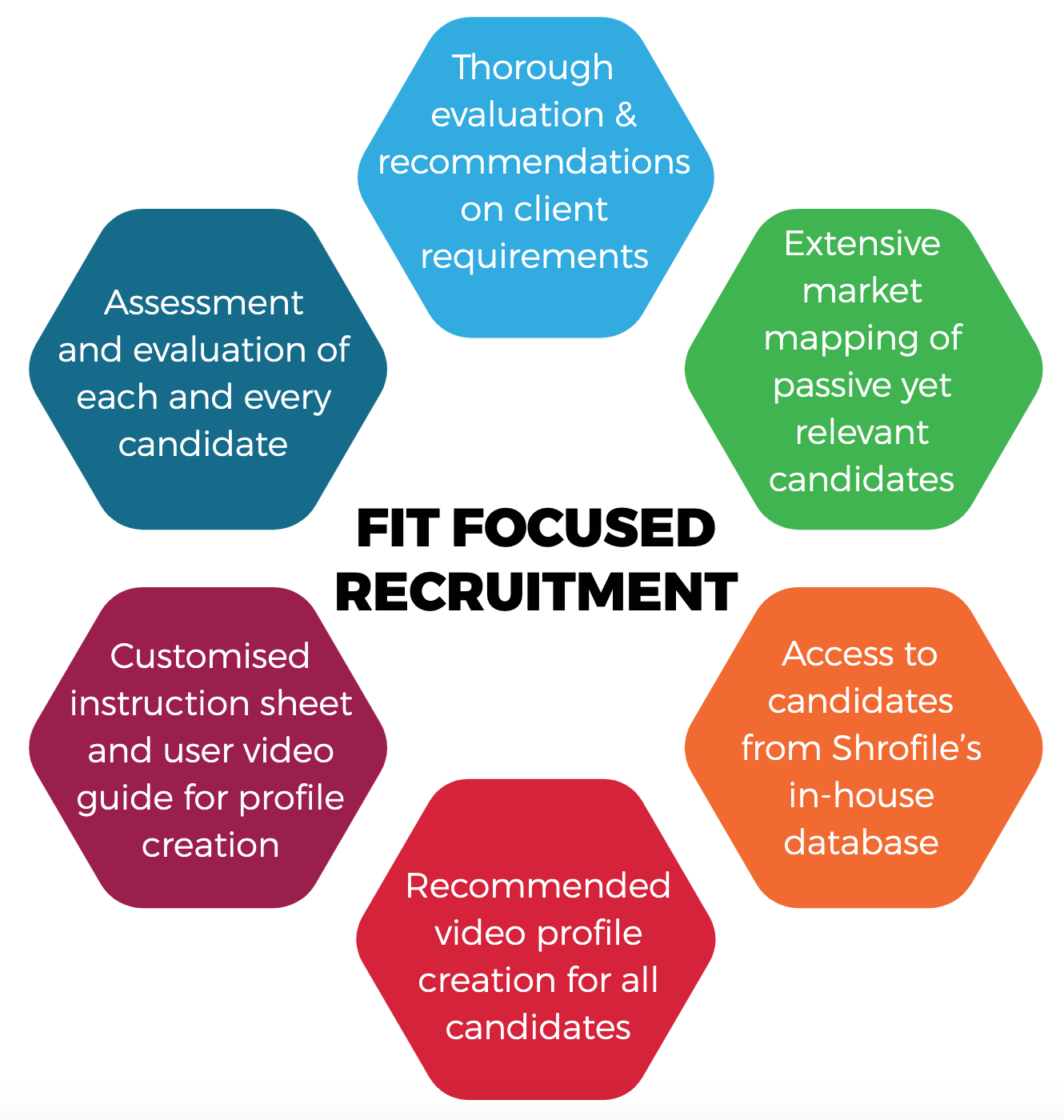 Recommended video profile creation for all candidates - We've an app which is exclusively designed to give a snapshot into every professional's personality, passion and preferences. This short 30 second videos recorded by professionals allow organisations to view and experience future employees and discover them outside of their resumes
Customised instruction sheet and user video guide for profile creation - We believe in giving a best user experience and for same we provide with customised instruction sheet and user video guide for profile creation
Assessment and evaluation of each and every candidate - We follow a well-thought-out, structured process that helps us best match the right people to the right jobs. We spend hours screening each candidate deliver excellent candidates
E-mail me this brochure of Shrofile fit focused recruitment services